Stock, Logistics, and Handling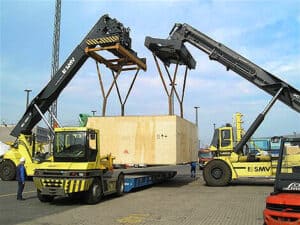 From professional warehouse to destination within hours. Connection of our company to major and thus countrywide transport-logistic companies is hundred percent guaranteed through our 24 Plus system.
Employing our computerized monitoring of shipments and central scheduling office, specially trained experts can save you time, money, and troubles by collecting and/or delivering your cargo. Even products manufactured behind schedule can mostly be transported to the desired destination just in time owing to our high-quality logistical proposal and 24 Plus system.
Thanks to 8.000 m² of storage area and over 28 transshipment locations, waiting periods can be nearly excluded through our 24 hours service.
We can offer the industry a maximum of quality owing to our storage capacities here and those of our representatives abroad.
You are in need of more storage capacity or want to rely on a 24 hours service? Contact us.
By clicking "send message" you agree to the transfer and storage of your data according to our privacy policy.
By clicking "send message" you agree to the transfer and storage of your data according to our privacy policy.