Special container transport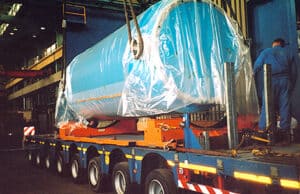 The container CASTOR® is constructed for the transportation and storing of irradiated burning elements from the boiling water reactor. It is a special container of security category I, which guarantees that, in all imaginable transport accidents, the body of the container and the cover system remain fully functional and the airtight enclosure of the subsequent radioactive container remains contained. Even the collision of a fast-flying military airplane into this container has been simulated by a bombardment attempt on a model of a CASTOR® container.
This high level of security is already placing extreme demands on the handling and transportation of the CASTOR® container from the production locations to the power stations. Even years ago, the company ARNOLD SPEDITIONS GMBH set itself this challenge and since then has been certified accordingly for the high level of quality, among other things.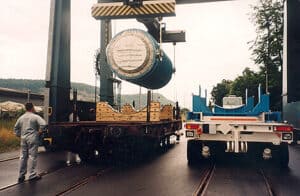 The various containers necessitate different requirements for handling and transportation. ARNOLD SPEDITIONS GMBH generates and constructs transport racks of their own production for this purpose. These are fixed and mobile mechanisms, which guarantee the transportation of over 100 tons of weight per container onto the various transport vehicles that are employed for this purpose.
Our expert knowledge of specialist transportation plays an important role and stands the engineers among our clientele in good stead for the planning and organization of extremes. Transportation is the life blood of an industrial nation. Without it, supplies in all sectors would collapse. We have been securing this life blood with all the measures that are involved with transport activities and regularly checking the continually increasing demands for over 60 years.