Your specialist for Railroad Freight / Entrainment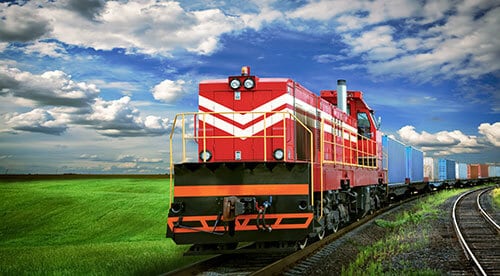 Europe's railroad network stretches for more than 200.000 kilometers. It goes from Portugal to Russia and from the Arctic Circle to the Bosporus. Rail traffic has possibilities of continuing transportation even there where tracks have different widths. Spanning from group transport via carloads to complete trains and further to special logistics handling – there is no limit for us on rails. Selection of routes to meet your requirements and good use of space and weight capacity ensure your competiveness and economic preservation of your products.
… that is the amount of the performed trucking in 2010.
Rail freight traffic is the most efficient possibility of eco-friendly transporting large quantities of goods over long distances. Railroad transportation is not only important in extensive states such as China, the USA, and Russia, but also in Europe where a steady increase of rail freight traffic can be observed. Here, the strong increase of combined traffic especially between Asia-Europe and vice versa needs to be highlighted as well.
The advantage:
With our logistics leadership, even goods with unique measurements and weights will reach their correct destination on the desired date. Representatives at home and abroad, especially in the Eastern bloc, guarantee our clients an all-in-one solution for innovative logistics needs. A maximally accessible transportation stability thus implements a rather sensible flow of goods.
You would like to receive more information on transport via railroads? Contact us.
By clicking "send message" you agree to the transfer and storage of your data according to our privacy policy.
By clicking "send message" you agree to the transfer and storage of your data according to our privacy policy.