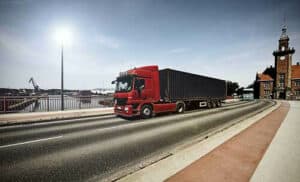 Nearly 80% (according to a survey made in 2009) of international transportation of general cargo is packed in containers. Therefore, when it comes to container transport, it is indispensable to hire a true expert who has a lot of experience in the trucking of containers.
Beginning with the packaging and stowage of containers, the choice of an optimal mode of transport, the improvement of transportation time, the administration of customs clearance procedures and ending with the delivery to the customer or construction site – our experts keep an eye on everything.
Complex logistics procedures which are quite usual when it comes to container trucking require careful planning and a professional handling, so that your demands and wishes can be best met.
So far, our experienced specialists have successfully took several thousands of containers to their destination, already. Worldwide and in any possible situations, we create convincing solutions.
You have some goods that should be transported via containers? Contact us.
By clicking "send message" you agree to the transfer and storage of your data according to our privacy policy.
By clicking "send message" you agree to the transfer and storage of your data according to our privacy policy.